Important: MODEL YEAR 2017
We would like to point out that from the month of September 2017, is available the new Nevada set terrace. The substantial change, it affected the backrest of the armchair. In the previous model (see product pictures), this part he was completely straight, while now, thanks to a specific study to improve ergonomics and comfort, is concave. Detail not negligible, which in addition to increasing comfort, enhances the overall design of Nevada. See images below.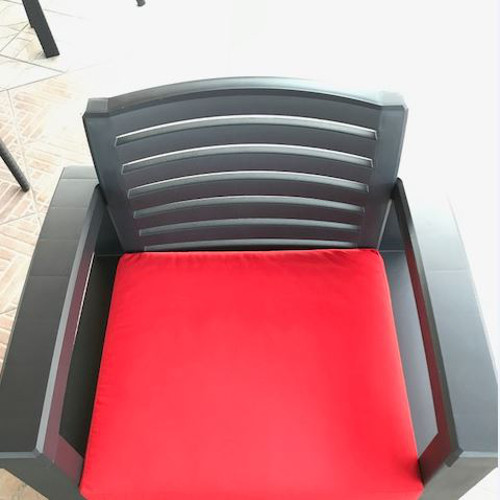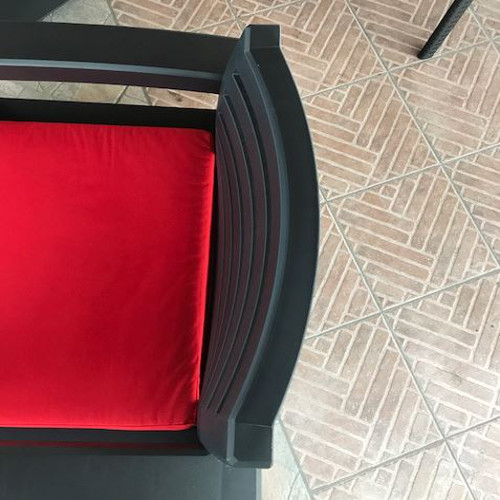 The quality of living comes from the harmony between form and detail, from a perfect balance of the beautiful and functional. Set Nevada terrace, unites a comfortable seat to a very modern proposal where the slats highlighted by a functional design, combine the traditional form with the contemporary. Main features: high backrest, arched and ergonomic to ensure maximum comfort, smooth machining with presence of slats in the backrest and in the small table, cushions only in the seat.
BicaDesign allows for freedom of choosing and living the home and garden in the most personal manner, indoors and outdoors, and every other space like the house or the terrace. A vast collection to live life tastefully and in total wellbeing, in small or large spaces with the best in design, all made in Italy! Strong and resistant products made to enhance and decorate modern locations or romantic settings with style, both in private and contract contexts. In short, a collection for furnishing the garden and home, restaurants and bars, designed to live a functional and dynamic daily life.
Important: all collections of BICA lounges, are free of metal parts such screws or bolts, which in time and in the open air, exposed to moisture or weathering, may possibly create rust. Designed with graft to "bayonet or interlocking" which does not require any tools for assembly. A practical and precise system which allows high simplicity in assembling (max. 15 minutes).
COLOR OF THE CUSHIONS
Set Nevada in white color: GREY cushions
Set Nevada in anthracite color: GREY cushions
Set Nevada in brown color: BEIGE cushions
Note: for dynamics related to the production chain, the color of the default cushions can not be changed. For this reason, we invite you to visit the category "custom cushions", where you can buy an additional set of cushions in various colors, all warm and elegant.
WINTER MAINTENANCE: In the case of outdoor use, we advise to protect the furniture by covering or storing them in places sheltered by bad weather.
Watch the video to see how easy and fast assemble our Set. Recalls that the assembling it is the same for all models.
Design BICA Studio.
Delivery 96 to 120 hours depending on the destination.
For indoor and outdoor use.
BICA S.p.A.
All BICA products are made of recyclable polypropylene by injection molding technology. Equipped with "UV" treatment against discoloration and yellowing caused by the sun. Also equipped with "WATERPROOF" water resistant treatment. Easy to clean.
We are proud to be able to assert that the entire range of our products is designed and manufactured at our Company in Italy. Our will is to continue the great tradition of Made in Italy, always offering high quality and design research.