Attention: the indicated price refers to the cost of the upper part of the maxi umbrella only. To receive the price of the complete product, it's necessary your request by email, where the various accessories (essential and optional) must be indicated such as: frame color (white, corten or anthracite), fabric color (see in the product images or in the color card in the "download" area), base (normal with concrete plates, or galvanized steel to be buried or for fixing to concrete reinforced), windproof chimney, umbrella cover, flounce (without flounce A, with flounce C1, C2 or C3), cushions for base cover, LED kit (without LED, with 4 LED bars or full LED).
Pan is a splendid umbrella that is part of the exclusive Arborea collection. Collection that also includes the equally elegant Silva chair and the prestigious Sileno table (see below in related products). The Arborea collection was born from the desire to give a new interpretation of outdoor furniture, where the desire to live in the green and in the open air merges with the desire to have the same comfort and design, typical of indoor. A series of products (umbrella, table and chair) therefore capable of communicating with the nature that surrounds them. Arborea Collection embodies the craftsmanship, design, functionality and cutting-edge technology of our Made in Italy. If you want to find out more, go to the bottom of the page and access the "PDF Catalogs" area: you can download the complete Arborea catalog.
Pan is a hanging umbrella with retractable arm, which has three frame colors (white, corten or anthracite) and twelve fabric colors. For shapes and practicality Pan is ideal in any context, private or contract. With the adoption of the side pole, Pan guarantees great structural strength as well as a clear reduction in overall dimensions, thus making the most of the space below. An excellent maxi umbrella, with great functionality and designed for professional use. Extremely indicated in the hotel and restaurant sector, where solidity, reliability and refined design are required. Pan is available in various shapes and sizes, a determining factor that allows it to find space anywhere, such as: beach, poolside, resort, bar, cafe and much more. The innate beauty and cleanliness in the design, combined with high practicality, make Pan an exclusive piece of furniture. The accurate manufacturing quality and the excellent materials used make this product a point of reference in the modern market. Umbrella also ideal for private projects. Note: further customizations are possible upon request.
Highlights:
- opening with handle, facilitated by a gas spring: this system provides the necessary thrust to open the umbrella easily and immediately.
- 360° rotation: thanks to a proven mechanism, the umbrella can be rotated 360° thus allowing you to change the shaded area without having to move the entire umbrella at various times of the day.
- retractable closure: by acting on the handle and pulling it downwards, the umbrella closes in a single movement approaching the support pole. This allows, without having to move tables and chairs, to free the area below.
- innovative base with storage compartment (with supplement): the base that has always had a primary function in supporting the umbrella, becomes a creative inspiration and is enriched with a practical storage compartment inside which there is a useful USB socket. In the internal space (12x40x23h cm), if you choose integrated LED lighting, you can also store the battery, or alternatively any other object. The whole is covered by a fiberglass casing which, in addition to hiding the concrete plates, can be transformed into two practical seats thanks to the addition of comfortable cushions.
- recycled acrylic fabric: for a green choice, this umbrella adopts a fabric deriving from the recovery of the waste of previous mass-dyed fabric from the production of umbrellas and awnings. Important resource for a more sustainable future. The resulting yarn is composed of 50% recycled fiber, obtained from production processes that use less water and chemicals, yet managing to obtain a perfect quality fabric, water repellent and resistant to UV rays for professional sun protection.
Standard features:
- frame of matt varnished aluminum
- nylon and cataphoretic and varnished steel components
- nuts and bolts of stainless steel
- ribs of matt varnished aluminium
- handle opening through gas spring system
- retractable closing
- recycled solution dyed acrylic fabric and border
Components and accessories on request:
- without flounce or with worked flounce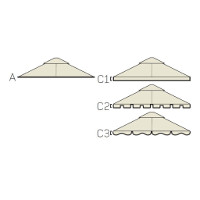 - windproof chimney (It offers the possibility of vent of the wind in the upper part of umbrella, ensuring greater stability. Very useful in often windy locations, where the structure is subjected to high stress)
- support base in galvanized steel with concrete plates (removable) and base cover in fiberglass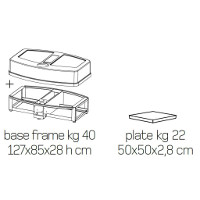 - cushions for base cover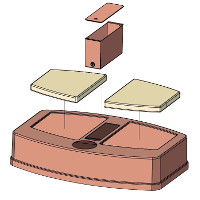 - underground base in galvanized steel for ground or reinforced concrete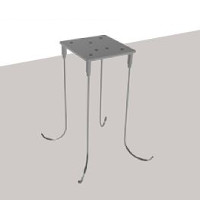 - galvanized steel base with reduced overall dimensions for fixing to reinforced concrete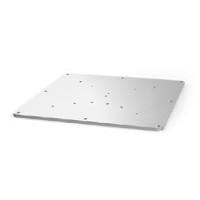 - polyester maxi umbrella cover with zip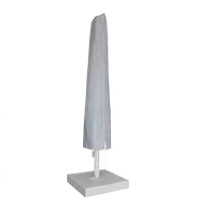 - lighting LED: 4 integrated LED bars and staggered in the umbrella ribs, with 28 light points and 50cm in length each. The LEDs provide excellent brightness and low power consumption, increasing also charm and possibility of use. Remote control included with the possibility of modulating the light at a distance with a simple touch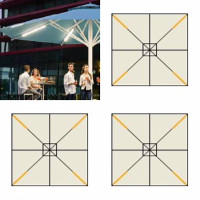 - lighting full LED: LED bars integrated and installed in each ribs of the umbrella, with 28 light points and 50cm in length each. The LEDs provide excellent brightness and low power consumption, increasing also charm and possibility of use. Remote control included with the possibility of modulating the light at a distance with a simple touch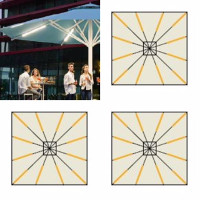 - battery kit: in the event you do not have electricity outlets near your umbrella, you can buy our battery kit, composed of lithium battery 18Ah 24V + battery charger. The kit allows continuous illumination for 10 hours, with charging time of 5 hours.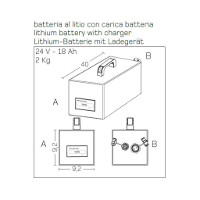 Delivery in 14/16 working days (each item is made to measure).
All Crema Outdoor products are absolutely made in Italy, from design to production. Every solution created by this historic company circumvents by the laws of mass production, maintaining the same authentic and original character of the handmade product. Crema Outdoor is a company founded in 1890, an atelier that produces professional and high quality umbrellas, gazebos and garden furniture. Based in Montagnana, Padua (Italy), it sells all over the world.