Attention: the indicated price refers to the cost of the upper part of the maxi umbrella only. To receive the price of the complete product, it's necessary your request by email, where the various desired accessories must be indicated (some essential, others optional) such as: frame color (white or anthracite), fabric color (see in the product images or in the color card in the "download" area), base (normal with concrete plates / in galvanized steel to be buried / in galvanized steel for fixing in reinforced concrete), umbrella cover, flounce (without flounce A, with flounce C1, C2 or C3), cushions for base cover, LED kit (without LED, with 4 LED bars or full LED), infra-red heaters, crystal panels in transparent PVC film.
The refined maxi umbrella Adone Plus completes the successful Adone series. Rather similar for features, to the other two models (Adone and Adone Evo), this model differs for two very important technical aspects: specific polyester fabric and tensioning handles. With Adone Plus you have a further choice! An excellent maxi telescopic central column umbrella, designed for professional use and featuring great functionality and robustness. Extremely suitable in the hotel, restaurant and catering sector (HO.RE.CA). Adone Plus is available in various sizes, shapes, colors and accessories. Determining factor that allows him to find space in any location such as: beach, poolside, resort, bar, cafe and much more. The innate beauty and cleanliness in the design, combined with the high practicality, make Adone Plus an excellent maxi umbrella that also knows how to be a refined furnishing accessory. The accurate manufacturing quality and the excellent materials used make this product a point of reference in the modern market. Ideal article also for private settings. Note: further customizations are possible upon request.
Highlights:
- giant telescopic umbrella able to withstand strong winds thanks to the use of a particular polyester fabric and an innovative handles system, which allows to modulate the tensioning of the cover according to the climatic conditions.
- designed to be opened above the tables or the furniture below, without having to move them from time to time. Therefore ideal for outdoor environments in the restaurant sector.
- possibility of large coverage, guarantees solidity, reliability, functionality and refined design.
- multiple customization possibilities in terms of colors and accessories.
Standard features:
- telescopic pole of varnished aluminum
- components of zinc-plated varnished steel
- nuts and bolts of stainless steel
- ribs of varnished aluminum
- telescopic opening with two poles and handles
- polyester fabric and acrylic border
- wind-proof chimney with aluminum frame
Components and accessories on request:
- without flounce or with worked flounce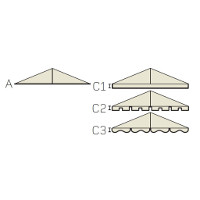 - support base of zinc-plated varnished steel with cement plates (Removable)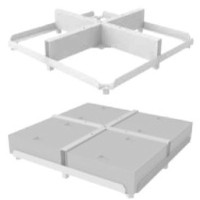 - underground base in galvanized steel for ground or reinforced concrete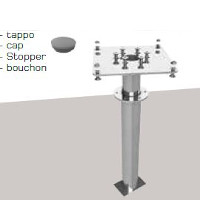 - galvanized steel base with reduced overall dimensions for fixing to reinforced concrete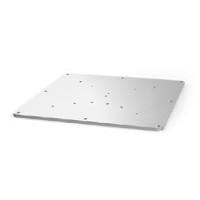 - base cover in galvanized steel and painted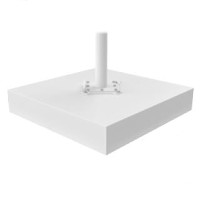 - cushions for base cover (2): made in the same color as the umbrella in solution dyed acrylic fabric and equipped with open cell polyurethane foam padding. Thickness 15cm.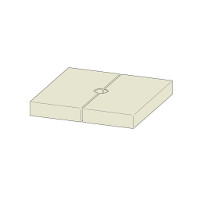 - polyester umbrella cover with zip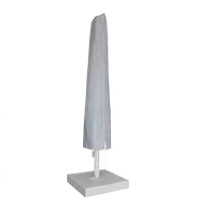 - lighting LED: 4 integrated LED bars and staggered in the umbrella ribs, with 28 light points and 50cm in length each. The LEDs provide excellent brightness and low power consumption, increasing also charm and possibility of use. Remote control included with the possibility of modulating the light at a distance with a simple touch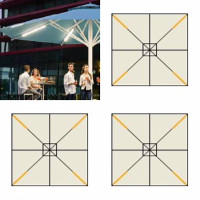 - lighting full LED: LED bars integrated and installed in each ribs of the umbrella, with 28 light points and 50cm in length each. The LEDs provide excellent brightness and low power consumption, increasing also charm and possibility of use. Remote control included with the possibility of modulating the light at a distance with a simple touch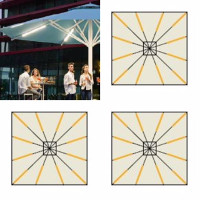 - infra-red heating. Revolving with bracket to fix, consuption 1500W, IPX5 protection rating, stainless steel grid, heated area aproximately 12-15 sqm. Possible and further options: 230Vac receiver with 0-100% dimmer function, "soft start" gradual departure, wireless remote control with heating regulation. We recommend the installation of two infra-red heating, installed in the ribs in crossed way.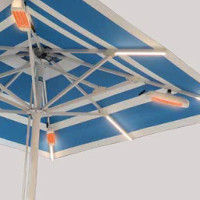 - cristal panel in transparent PVC film with border and thickness 0,30 mm, conjunction system with zip, UV treatment, weight ca. 370 gr/sqm. It is possible to request the number of panels and doors according to your needs.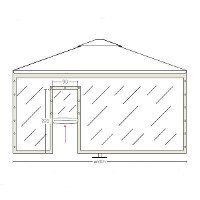 - battery kit: in the event you do not have electricity outlets near your maxi umbrella, you can buy our battery kit, composed of lthium batteries 18Ah 24V + battery charger. The kit allows continuous illumination for 10 hours, with charging time of 5 hours.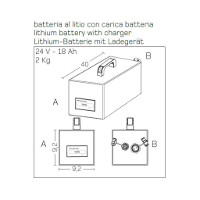 Delivery in 14/16 working days (each item is made to measure).
All Crema Outdoor products are absolutely made in Italy, from design to production. Every solution created by this historic company circumvents by the laws of mass production, maintaining the same authentic and original character of the handmade product. Crema Outdoor is a company founded in 1890, an atelier that produces professional and high quality umbrellas, gazebos and garden furniture. Based in Montagnana, Padua (Italy), it sells all over the world.